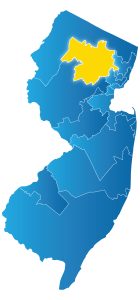 Every constituent matters.  Every voice deserves to be heard.  The 11th Congressional District spans fifty-four municipalities in Morris, Essex, Passaic, and Sussex Counties.   During the course of this campaign, I intend to fight for every vote in every district of every municipality.
Our lives touch many corners of the District, from Wayne where we live, to Montclair where we go to church, to West Orange where we owned our first home, to Roseland where I used to work, to Madison where Khyati teaches at FDU.  As a Passaic County Freeholder, I already represent over 130,000 constituents in the 11th District.  But my commitment to be present, to listen, and to campaign vigorously is unlimited.  During the course of this campaign, I'll work to earn every vote in every district of every municipality.
Make no mistake: This will be a hard-fought election and winning won't be easy.  But I have the experience to meet the challenge: In 2012, I beat an incumbent Republican to became a Passaic County Freeholder.  When I was the incumbent in 2015, the Republicans aggressively sought to retake my and my colleagues' seats.  We campaigned tirelessly throughout the County – in the "red" as well as the "blue" towns, connecting deeply and personally with all kinds of people.  And after making our case to the voters, and demonstrating a record of results, my team and I won re-election.
2018 represents our chance to do for the 11th District what I've already done in Passaic County: defeat a Republican incumbent, with hard work and a great team, and show the difference that a principled, responsive Democrat can make.  I am prepared by my experience for this campaign and I look forward to the chance to earn your vote.
We'll need your help every step of the way.  Whichever of these communities you call home, help us get to know you and your neighbors, but in touch about the issues that matter to you, and support the campaign as a volunteer or contributor.
Essex County:
Bloomfield*, Caldwell, Cedar Grove, Essex Fells, Fairfield, Livingston, Montclair*, North Caldwell, Nutley, Roseland, Verona, West Caldwell, and West Orange*
Morris County:
Boonton, Boonton Township, Butler, Chatham Borough, Chatham Township, Denville, East Hanover, Florham Park, Hanover, Harding, Jefferson, Kinnelon, Lincoln Park, Madison, Mendham Borough, Mendham Township, Montville, Morris Plains, Morris Township, Morristown, Mountain Lakes, Parsippany-Troy Hills, Pequannock, Randolph, Riverdale, Rockaway Borough, Rockaway Township, and Victory Gardens
Passaic County:
Bloomingdale, Little Falls, North Haledon, Pompton Lakes, Totowa, Wanaque, Wayne, and Woodland Park
Sussex County:
Byram, Hopatcong, Ogdensburg, Sparta, and Stanhope
* district includes only part of these municipalities