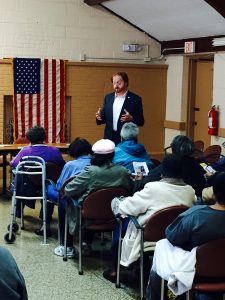 I have strong disagreements with Congressman Frelinghuysen and President Trump on a range of issues, from health care to immigration to the environment.  But I am not running for Congress just to be a vote against the Trump administration.  I am running for Congress to fight for the issues that matter to families in the 11th District and to offer practical solutions for meeting our country's challenges.  As a Freeholder, I've had a front-row seat to the practical issues that affect all of us; I've seen what works and understand why it matters.  And because leadership starts with listening, my agenda will be driven by the needs and concerns of all the 11th District residents I hear from.  Here are some issues that I feel are key priorities for today and tomorrow.  As I campaign throughout the district I look forward to discussing these and other issues that matter to you and your community.

Health Care Access and Affordability
The Affordable Care Act (or "Obamacare") needs improvement, and Congress needs to come together across the aisle to talk about fixing it. Rising deductibles, high premiums, limited consumer options, and the cost of prescription medication are problems that need to be addressed.  The trouble is, Republicans won't even talk about fixing a system which, while flawed, is a huge improvement on how things used to be for millions of Americans.  Instead, Congressman Frelinghuysen has joined the right wing and President Trump by advocating a repeal plan, "Trumpcare," that would harm all New Jerseyans by cutting resources our doctors and hospitals count on and eliminating protections for older folks, women, and others.  The Republicans' "repeal-or-bust" mentality only add to the problem.  My litmus test for supporting legislation is whether it improves the status quo and makes health care more affordable without cutting health coverage or accessibility – especially for vulnerable populations like older Americans, women, and people with pre-existing conditions.

Infrastructure Improvements
Improving our nation's infrastructure must be a national priority – particularly in New Jersey, where so many commuters count on our roads and rails, and so many businesses need quality infrastructure to get their goods to markets across the nation and the world.  As a Freeholder, I've stood up for more and better improvements while others sought delay, because improving infrastructure drives economic development.  I'm proud of a record of advocacy that has brought tens of millions of federal dollars into our region for important projects, and I will continue to lead the fight for regional rail and the Gateway tunnel project that 11th District commuters need.  The 11th district is particularly dependent on federal highways, such as Interstates 80 and 287.  I intend to maximize federal grants for infrastructure improvements to ensure that the district's infrastructure has the capacity to be an engine for economic growth for generations to come.

College Affordability
My son is a few years away from college but I am already thinking about the enormous cost of college and how our family will pay for it.  I know I'm not alone.  The cost of college has grown so much in recent years, forcing students to borrow more and more, even in the face of a tough job market.  The result: students are coming out of college thousands of dollars in college loan debt.  Many also take on credit card debt while in college, and can find themselves stuck in the debt trap for years.  This trap restricts their professional choices, stifles entrepreneurism, and can even delay milestones like starting a family and buying a home.  For young people in New Jersey, it can literally be cheaper to leave our state than pursue education here – and many never come back.
On education and professional opportunity for young people, we need a multi-prong approach.  We need to ensure that college remains accessible for families, rich and poor, by controlling college costs, offering loan forgiveness opportunities tied to public service and innovation, and adding grants for students studying certain in-demand fields, such as cyber security and the "STEM" subjects.  We need to invest in community colleges so every student can pursue pre-professional studies or get an affordable head start on a four-year college education.  (I'm proud that in Passaic County, we have invested in our Wanaque campus of PCCC to make more academic programs available to both traditional and returning adult students.)  Federal policy should also encourage technical education and apprenticeship programs for people of all ages who aspire to careers in technology and the trades.

Environmental Sustainability
Climate change is real and man-made.  We need leaders in Washington who recognize the national emergency posed by global warming and support legislation and funding to address it.  In New Jersey, global warming threatens our shore, our farms, and our climate.  It is not enough to say you believe in global warming, federal representatives must act with urgency to address the issue.  I will vote for legislation that funds climate change research and projects to protect our communities from the impacts of rising oceans, warmer winters, and stronger storms.
Issues like health care access and affordability, infrastructure improvements, college affordability and environmental sustainability should be addressed on a bipartisan basis because they affect Republicans and Democrats alike.   During my career in public service, I have not been afraid to work across the aisle to find solutions to improve the lives of constituents and provide new opportunities for business in our area, and I intend to take the same practical and solution-oriented approach to Washington, D.C.