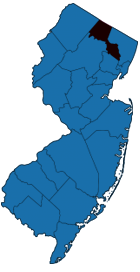 Every constituent matters.  Every voice deserves to be heard.  Passaic County crosses boundaries of geography and background. My 508,000+ constituents include families who've been here for centuries, newly-minted citizens, and everyone in between. They span from urban communities Paterson and Passaic to suburbs and rural communities all the way to the New York State border. During the course of this campaign, I intend to fight for every vote in every district of every municipality.
Make no mistake: From re-electing Governor Phil Murphy, to supporting our allies in the Legislature, to the down-ballot races that make a difference in municipal government, this will be a hard-fought election. Winning won't be easy.  But my teammates and I have run and won tough elections before: We beat Republican incumbents in 2012, and fought off aggressive opposition campaigns in 2015 and 2018. We campaign tirelessly throughout the County – in the "red" as well as the "blue" towns, connecting deeply and personally with all kinds of people.
We'll need your help every step of the way.  Whichever of Passaic County's wonderful communities you call home, help us get to know you and your neighbors, but in touch about the issues that matter to you, and support the campaign as a volunteer or contributor.