A Record of Results – Transportation Improvements
I believe that action speaks louder than words.  Want to know what someone stands for?  Look at their record of results.  In my nine years on Passaic County's governing body, I have demonstrated a commitment to fiscal responsibility, economic development, and standing up for the vulnerable (particularly children with disabilities) and for the American values of inclusion and opportunity.
Transportation Improvements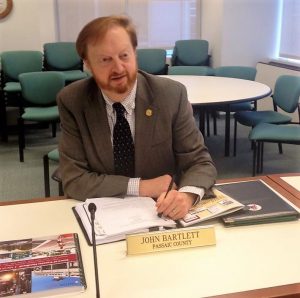 As Passaic County's representative on the North Jersey Transportation Planning Authority (NJTPA), a regional transportation panel that handles $2 billion per year in federally-funded infrastructure programs from Ocean County to the New York border, I have been an advocate for the transportation needs that affect everyone who lives in or travels through our county.  Among other things, I have:
At my very first NJTPA meeting, stood up to Governor Christie to avoid a seventh delay in the important $200M+ project to improve traffic flow and safety in the Routes 46/3 interchange near Montclair State University in Woodland Park and Little Falls.  This project was supposed to be finished by 2011, but when I became a Freeholder in 2013 it was still on the drawing board.  Now NJDOT has completed the first phase, and the project will continue to improve safety and speed residents' commutes for years to come.
Advocated and received more than $1 million in federal grants to preserve and expand the Morris Canal Greenway as open space for recreation and historic tourism.
Launched the North Jersey Rail Coalition, advocating the development of commuter rail to connect Passaic, Morris, and Sussex Counties to economic centers in Bergen County and ultimately to New York City by connecting with the Hudson-Bergen Light Rail.
In the past three years, brought $24 million in new direct funding for Passaic County initiatives, including $8.6 million for Lakeview Avenue in Paterson and Clifton, to improve traffic and pedestrian safety; $6.3 million for safer commercial district roadways in Paterson and Clifton; and $3.4 million to develop the Highlands Rail Trail, including $1.5 million to begin construction in Wanaque soon.
Advocated and received more than $5 million for rural road safety in towns like Bloomingdale, North Haledon, and Wayne, and for bicycle and pedestrian safety too – all part of the most comprehensive Complete Streets plan in the State of New Jersey.
Improved local business' ability to ship goods westward by pushing completion of the Two Bridges Road project connecting Wayne's West Belt to Morris County and I-80 West.
I am constantly advocating to make sure that projects large and small, like the Gateway Tunnel project and its essential "Bergen Loop" element, are having every possible positive effect on our region.  Projects like these, and a host of other small streetscape and road safety projects, drive growth for businesses and improve quality of life for residents and commuters in Passaic, Morris, Sussex, and Essex Counties.  Through advocacy and collaboration with local governing bodies, we have also been able to improve and preserve historic treasures like the Morris Canal Greenway without increasing the burden on taxpayers.
To learn more about John's Record of Results, click here.