I've taken on a Republican incumbent and won, giving me the opportunity to serve part of our District already as a Freeholder. I've delivered results for people in Passaic County, and I understand that leadership starts with listening. I'll never ignore the needs of our District, and I'll be a champion for the change we need in Washington.
John Bartlett is an attorney and public official with a record of results in county government, and a homeowner, husband and dad whose life touches many parts of the 11th Congressional District. As a lawyer and a leader, he stands up for the values most New Jerseyans share: practical approaches to public challenges, supporting business as the driver of economic growth and quality of life in the region, and ensuring equality of opportunity for all of us.
Family, Education, And Career
I'm the son of a country doctor. As a kid, I remember riding with dad on house calls. He kept his doctor's bag in the back of his pickup truck, with a chainsaw in case a downed tree ever stood between him and a patient. Dad's example of commitment and service guides me every day.
Since moving to New Jersey after law school, John has lived in West Orange and Wayne, both in the 11th Congressional District. He currently lives in Wayne with his wife, Dr. Khyati Y. Joshi, and their 13-year-old son.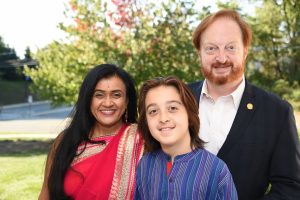 As an interfaith family, their story is the American story in all its rich diversity: John's family has been in the U.S. for generations, and Khyati immigrated from India as a child. The family celebrates and observes both Christian and Hindu traditions; they attend St. John's Episcopal Church in Montclair, and are involved with Hindu temples in our area.
John is a graduate of Harvard Law School and received his bachelor's degree with honors from Brown University. He was also a Raoul Wallenberg Scholar at the Hebrew University of Jerusalem, where he met Khyati. She is a professor at Fairleigh Dickinson University and the author of numerous books on race and religion in America.
While living in Jerusalem, John wrote part-time for The Associated Press. Before law school, he also served as communications director for the national anti-crime organization Fight Crime: Invest in Kids in Washington, D.C., and as a barista at Starbucks.
John has been recognized with the highest professional rating for attorneys, AV-Preeminent, from Martindale-Hubbell, and he was selected among the New Jersey Law Journal's "Forty Under 40" promising young attorneys in 2010. He is a Partner in Murphy Orlando LLC, where his practice includes litigation and counseling for non-profit organizations, election and campaign finance law, and other complex business and appellate cases.
Proven Results
County government is where the rubber meets the road: Where all those services they debate in Washington actually get delivered to New Jerseyans. So I've been where our federal dollars are spent, and I've seen why they matter.
As a Freeholder, John has increased County services to taxpayers while holding the line on tax increases – balancing 5 budgets and often keeping them below the state-mandated 2% cap, including achieving a zero county tax levy increase in 2017. Among other things, John has:
Expanded businesses' access to county Economic Development services through outreach and special programming;
Helped special-needs children learn to swim by opening the PCTI pool to Wayne parents and non-profit autism swim teams on weekends;
Increased County government's responsiveness to diverse communities with new appointments to the county's volunteer boards and commissions and new materials; and
Supported new improvements and programming in Passaic County's park system.
At the same time, John's active participation on a regional transportation panel has helped bring millions of dollars in new federal funding into our area, including major infrastructure projects serving businesses and commuters in Passaic, Morris, and Essex counties. John's advocacy has also enabled Passaic County to improve and preserve historic treasures like the Morris Canal Greenway without increasing the burden on taxpayers.
Standing Up For Our Values
There are moments that call us to rise above party and politics and stand up for the universal principles that connect us all as Americans.
In five years as a Freeholder, and as an attorney, John has gained a reputation as someone who stands up and speaks out on the moral issues that define America today:
against anti-immigrant rhetoric, rebuking President Donald Trump's unconstitutional travel ban and Gov. Chris Christie's rejection of Syrian refugee children;
spearheading an interfaith effort to provide resources for refugee families, by working with local congregations and non-profits;
challenging Governor Christie for withholding health care funding for older women and men in Passaic County's health care facilities;
in support of marriage equality when New Jersey's legislature was debating it, and when the U.S. Supreme Court was considering Hollingsworth v. Perry;
supporting everyone's right to vote without intimidation, by training lawyers across New Jersey to protect voters on Election Day.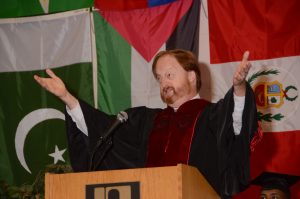 In 2009, John served on the Democratic National Committee's legal team in the nation's longest-running Voting Rights Act litigation, successfully protecting a court-ordered ban on the Republican National Committee and New Jersey Republican State Committee engaging in racially-targeted voter suppression activities. In 2013, he represented a coalition of community organizations and people with disabilities to oppose Governor Christie's confusing, wasteful, and unnecessary scheme to hold two different state-wide elections within three weeks.
John is ready to take his know-how and work ethic to Washington, to be a true representative and advocate for the people of New Jersey's 11th Congressional District.